Think Healthy Camping Meals are Boring?
Think again! These 10 amazing healthy camping meals from breakfast to dessert will have you ready to throw some wood together and get your appetite ready!
I rounded up the EXPERTS in healthy food, and camping recipes in one place, to give you the very best (and delicious) healthy camping meals while you are enjoying the great outdoors!
So, without further adieu (get it?) let's get right to the eating – because……delicious!
You know what the best part of being an adult is?  You can have dessert first if you want!
From expert Holly at PinkFortitude, this take on S'Mores is gluten free, vegan and allergy friendly – and DELICIOUS!  They end up being super similar to yummy puppy chow!  Great for camping, hiking, or just you know….a Tuesday morning after the kids go to school.  Just sayin'….
At some point, we all have to adult and actually eat lunch or dinner with some substance, and this campfire stew doesn't disappoint!  This Campfire Stew from Recipes From A Pantry was given to Van Adieu to show a hearty, flavourful and meaty stew that can be easily made on a campfire or in an Instant Pot, slow cooker, or oven!  Seriously, this is delicious stuff! And its an amazing healthy camping meal!
Want to have a healthy homemade dinner that take comfort food to its highest level? Diana from Let's Camp S'more steps in with this AMAZING recipe!  Using chicken thighs, sweet potatoes, carrots, and mushrooms, this is a dinner that will please anyone!  Go ahead and travel over to her website, so she can give you the great advice even on how to layer the food within the dutch over for the best taste and even cooking throughout!

Janie from Hedge Combers shows you how you can have amazing seafood while camping! She got the tuna steaks FROM ICELAND!!!!  Ok, maybe you don't have that luxury, but you can still make this amazing recipe and this awesome healthy camping meal! For all the ingredients, just go to her blog here!
Need a meal planner for all of this?  I don't blame you!  I've got one for you right here if you subscribe for FREE!
FREE Daily Meal Prep Sheet
Loving our Meal Ideas?
This FREE Day Daily Meal Prep Sheet will help you make sure you have everything you need for any camping or family trip!
(Let's be honest, you can even use this at home!)
PLUS - You get complete access to the entire resource library called the Van Adieu Vault with tons of freebies and goodies!
Janie from Hedge Combers once again comes through for us and shows us how to make a healthy breakfast ….. without cooking AT ALL!!!!! As Janie says…"Got an early start? A long journey? A lengthy hike out to capture the sunrise coming over that awesome ridge? If you can't face, or don't have time to cook up breakfast when the dawn chorus is singing, you need to master the world of overnight oats. For those that haven't tried them before, overnight oats are made with porridge oats but rather than being cooked in the morning, they are left to soak, overnight. They are then eaten cold the following morning. With zero effort."  For the record….I LOVE ZERO EFFORT. 
Now, my mom is actually FROM Poland – I'm first generation here – and I'm no stranger to cabbage, so I knew I had to put this one from Diana from Let's Camp S'more on our list! This is so easy and so delicious, and so healthy – you HAVE to try it on your next hiking, camping, or family road trip! Head over to her site to find out the details on how to make this awesome dish!  As the Polish would say, Smakuje!!!!!
Ok, is spam healthy?  I don't know.  But what's a camping recipe list without some spam?  Who am I to go against tradition?  Plus, eggs are pretty healthy, so this one made the cut….because, spam. 🙂 This kindof, sortof healthy camping meal recipe comes from Fab Food for All, and is what camping is all about. Ok, well maybe it's not what its ALL ABOUT, but pretty close, because again…spam. 🙂 Head over to get the full recipe!

Whenever I read the word Kebab, I always think of my kiwi friends who pronounced it KEH-BAAAAAHHHHHEEEB.  Good times.  But all kidding aside, this recipe from Low Carb Yum, is seriously not funny, and totally awesome. This simple meat and veggies are grilled, and totally healthy and delicious! Check out not only how to make this delicious meal, but also how to make a ton of other yummy and healthy food!
These Shrimp Foil Packs are full of juicy shrimps, quick cook veggies and everyday spices. Bonus is that they require minimal prep and no cleanup.  Ready for the healthy part?  They are suitable for Gluten-Free, Keto, Paleo and Low Carb diets. And Weight Watchers points are even included in the post!  Bintu from Recipes from a Pantry does it again with this foil packet that is easy to throw together, immensely adaptable, with different veggies, cooks quickly, is a complete meal and clean up after is non-existent. Who needs to be washing up endless plates when you can use that extra time to catch up right?? Check out her site for the complete recipe! 
We've given you breakfast, lunches and dinners, and even dessert – but what about a snack?  This sweet chili popcorn from Hedge Combers is positively addicting!  Don't say I didnt warn you!  And it's totally easy to make outside at your campfire! Make it a healthy camping meal in and of itself! Her delicious recipe is sooooo good, and healthy!  Popcorn (not microwave popcorn, but the real stuff) is really good for you! So head on over to her site to get the full recipe, and thank me later!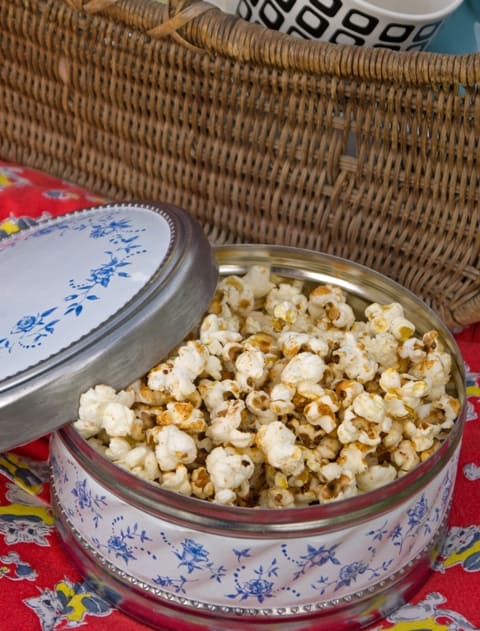 If you are interested in THREE AMAZING SOUP recipes (one that even includes RUM!!!) Check out my other post!
So tell me, which healthy camping meals did you try?  Which ones did you LOVE????  If you need help with a shopping list for all of these delicious meals, then I've got that for you too!  Subscribe below and get a free meal prep checksheet, along with a ton of other resources in our huge and FREE online resource library, the Van Adieu Vault!
FREE FARMERS MARKET SHOPPING LIST!
This FREE Shopping List Printable will help you remember the things you need to get at the Farmer's Market (or even the grocery store!)
​

Subscribe and also get INSTANT FREE access to our resource library, the Van Adieu Vault, full of even more free goodies!
Adieu for now!

ea6ab0a1f327be8a1715fcde2cab58478f27ca27df3a090d63